Open Company "Ukrnaftogazexpert"
Open Company "Ukrnaftogazexpert" is one of the advanced specialized organizations of Ukraine on working out and introduction of the advanced means and technologies of nondestructive testing and expert inspection of the equipment of the raised danger and the first in Ukraine, which Test laboratory is accredited by German Accreditation System for Testing - Deutsche Akkreditierungsstelle GmbH (DAkkS).
Being the accredited laboratory, we, by means of system of the international agreements (the arrangement on mutual recognition MRAs) have the international recognition. For manufacturers and exporters of Ukraine and the nearest countries, where still there are no the similar laboratories, the given advantage is expressed in essential decrease in expenses on tests of the products or materials, because necessity to conduct test in other country disappears. After all we are closer also cost of our services accordingly another.
Applied sphere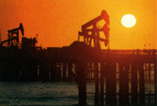 Activity of Open Company "Ukrnaftogazexpert" are objects with the established equipment of the raised danger of oil and gas, chemical and power complexes, metal constructions and components established on them.
Kinds of inspection works:
Inspection of a metal constructions , constructions and their components with application of methods of nondestructive testing (UT, MT, ET, VT) on conformity to specifications and requirements of the standard documentation.
Inspection of corrosion protection of pipelines on conformity to specifications and requirements of the standard documentation.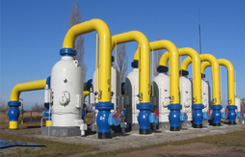 Kinds of tests and measurements:
Carrying out of complex diagnostic inspection of means of anticorrosive protection and a corrosion condition of the main pipelines, according to requirements of standard documents.
Carrying out of tests under the testing of a condition of metal and welded connections with application of a modern quality monitoring:

The visually-optical testing;
The ultrasonic testing;
The ultrasonic testing of metal on stratification;
Definition of mechanical properties of metal;
The capillary testing;
Magnetic powder testing.
On the Ukrainian market we work with 1992 by present time and we have a considerable operational experience in the area and the qualified personnel structure, consisting both from skilled experts and from young experts, who regularly pass certification. Open Company "Ukrnaftogazexpert" has contractual relations with the experts having 3rd level of certification by following kinds of nondestructive testing (ultrasonic, visual, magnetic -powder).
For constant improvement of quality of works, carried out by us and demonstration of our competence, we successfully participate in professional circular tests with other organizations from all world, which spends by Institut fur Eignungsprufung, IfEP (Germany).